Fire equipment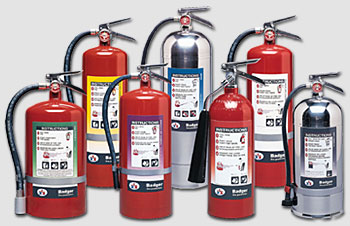 Serving Tulare, Kings, Kern, & Fresno Counties with two locations
Specializing in:
Fire Extinguishers & Cabinets - AAA Quality Services Inc. offers a full line of Fire Extinguishers for all types of hazards. In most situations, Stored Pressure Dry Chemical (ABC) is the extinguisher needed. In special cases, Extra High Flow Dry Chemical, Halotron, Carbon Dioxide, "K" Class, and/or Stored Pressure Water Extinguishers may be the best choice. Give us a call and one of our trained technicians can recommend a solution to fit your location. We also carry fire extinguisher cabinets and covers for every need.
Training Opportunities - Our team of expert technicians is well versed in the proper handling and utilization of portable fire extinguishers. They can provide your employees with live, hands on training in the proper use of fire extinguishers and hood suppression systems for emergency situations.
Sprinkler System Inspections & Maintenance - While fire extinguishers are designed to put out fires in a confined or smaller area, sprinkler systems are designed to put out fires in a larger more expansive area. The proper inspection and maintenance of sprinkler systems is vital to the protection of life, buildings, assets and inventory. In addition to sprinkler system inspections and maintenance, we can also perform modifications to existing systems.
Fire Suppression Systems - Kitchen Suppression Systems are essential to fire safety in commercial food preparation venues. These wet chemical systems guard against facility damage, potential injury of personnel and patrons and lost profits due to business interruption. Coverage quickly suppresses fires and prevents reflash. Cleanup is quick. Dry chemical systems are available for spray paint booths and protecting industrial applications. Service is required every six months.
First Aid Cabinets & Safety Equipment - Let us take care of your headaches. AAA Quality Services has a complete line of First Aid and Safety Equipment to fit your needs.
Check out this interactive web page for Fire Safety.